I've been accused of being hard to shop for.  I think most Carpenters, Handymen, and other skilled tradespeople are.  The reason is that most of us like tools, a lot.
Umm…That should make it easy right? 
Wrong. 
Buying Tools is the Whole Point
An HVAC friend, who really helped me out when I got started, said, "If buying new tools all the time isn't part of the job, then what's the point?!" He's right.  We're a bunch of big kids who now have a legitimate "business reason" to buy all the toys tools we need.  Shh… don't tell our wives. 
Seriously though,  If I need a tool for a job, I buy it.  If I have a good month and a new tool will make my work a little easier, I buy it.  If it's in the right spot at the Lumber Yard, I buy it.  Having the tools to do a job safely, do it well, and do it fast ultimately makes or breaks our businesses.
Therefore, here are 10 gift ideas for some less common tools, under $100, that we may not have… yet.
Why don't I own one of these?  A laser measure can quickly and accurately measure a room with a push of a button.  It will speed up estimates, measuring for base and crown, and generally just save time on the job site.  If I don't get this for Christmas I'm buying one.  I should have already.
While the multitool doesn't excel at any one job, having a small tool that can do many jobs readily available is handy when you find yourself in a surprise situation where you did need that flathead, wire cutter, etc.  I had a multitool really liked but have no clue where it is.
Reading books regularly correlates highly with being a successful person.  "Readers are Leaders" or something along those lines.  My problem, I'm busy.  I'm always working toward the next project deadline, or catching up on family time.  I rarely sit down to read.  By the time I've given up hope on finishing my to-do list, I can't focus on words on a screen or page anymore.  But I do spend a lot of time driving, working in my shop, sanding, and painting.  There's plenty of time to listen to a book and learn new things.  Audible is something I'd like to try, but never do myself
Good, quality headphones tie in with the Audible Gift.  I've tried a few different $20-ish dollar Bluetooth earbuds, but they don't block enough noise to really be useful around loud equipment.  These headphones from ISOtunes, are also earplugs.  Blocking the loud noise from saws, sanders, and planers is a safety issue that I have been lax in addressing.  These are also Bluetooth so there's no wire to create an additional safety hazard or be in the way.


This is one safety tool that I should already own, but I don't.  Microjig's GRR-Ripper is a push-block everyone that uses a table saw should have.  
These are the best, most versatile clamps I've ever owned.  Yes, I already have 8, I could use 8 more.  The concept is simple: route a dovetail groove and use it as a track for this clamp.  I'll have a video on these soon because they are amazing.  I use them for; Auxilary Fences, Face Frame Assembly, Jigs, Stop blocks, and they also fit in dog holes and can be used basically anywhere.  These clamps are high quality and worth every penny.  
I am leery of recommending a specific tool box, tool bag, or toolbox system because everyone has their unique needs and preferences.  I work out of a trailer so I don't need an interlocking rolling toolbox system, like the DeWalt Tough System.  However, I do need a good bag that I can put all my cabinet door installation tools into, or my crown molding tools into and take into a customer's house.
I had one of these and a lost it, or my son took it to play with.  It was great.  Bright, comfortable, and useful when crawling into dark, confined spaces.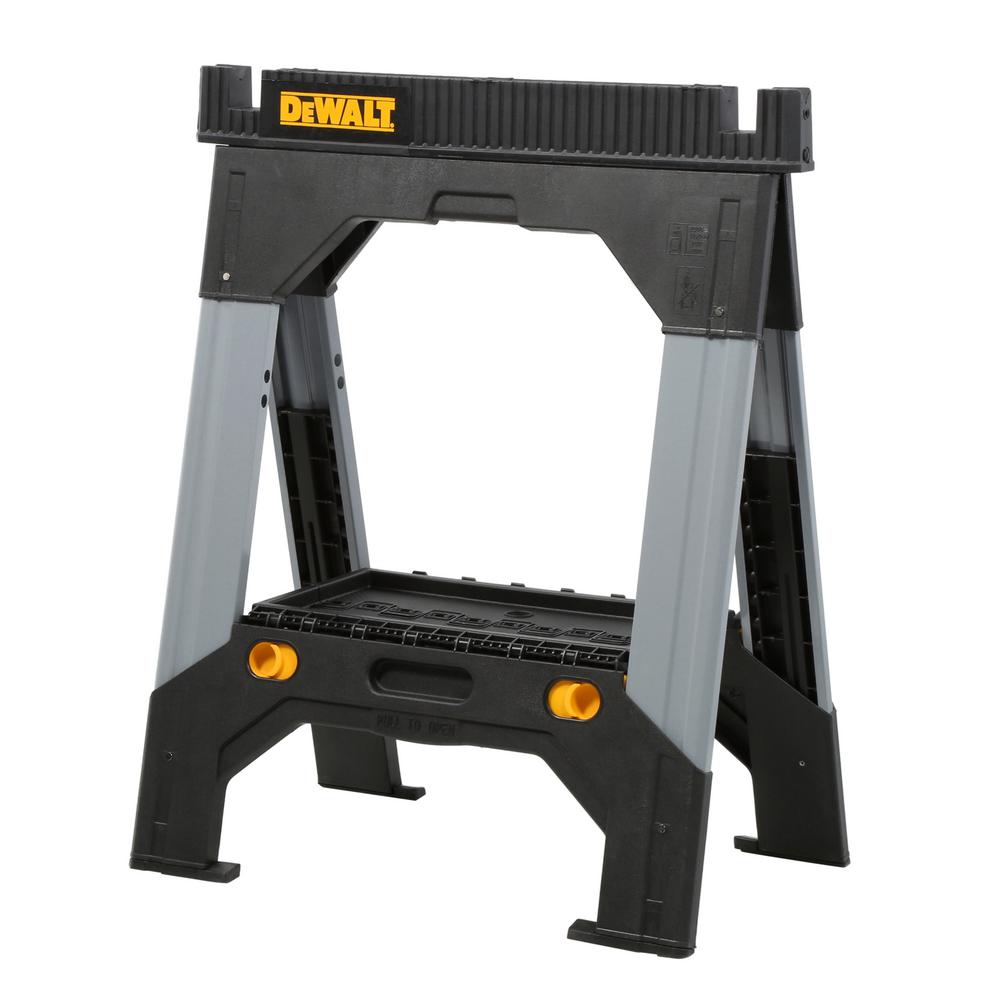 These are my favorite sawhorse.  They are lightweight, sturdy, and adjustable height so you can get them to the perfect height for you or the task. 
I've had this tool since I started my business 3 years ago.  I have used it in countless ways and has been one of the best purchases I've made under $100.  It folds flat for easy compact storage and both the cart and dolly positions have plenty of uses.  I don't use it all the time but it has a designated spot in my trailer so I can get it when I don't feel like hauling something heavy 
There you have it 10 gift ideas that you can give the handyman in your life this Christmas season.